Four Ways To Make Social Media Accounts More Secure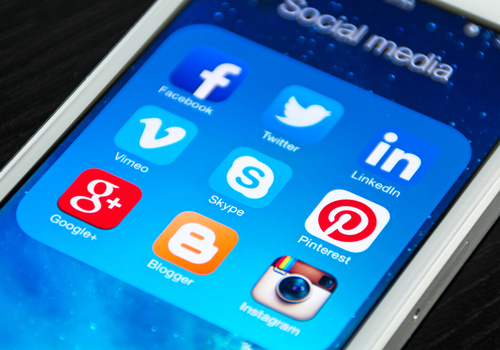 Identity theft and malware infections are two of the biggest security related worries for internet users. Unfortunately, both often stem from a lack of security for social media sites. Facebook, Twitter and other popular social media platforms are continuously working to make users safer, but you can take some additional steps on your own too. At Gizmodo, David Nield offers a few tips for how to make your social media accounts nearly unhackable.
Two-Factor Authentication
Most of your social media accounts require nothing more than a password to log-in. When you stop and think about how much valuable information is available to anyone with access to your account, however, you'll likely decide that more protection is needed. With two-factor authentication, you'll log-in with a unique PIN sent directly to you via text message or through a mobile app. No device will be able to access your account without first going through this process. For Twitter, head to the 'Security and Privacy' menu in 'Settings' to enable two-factor authentication. Similarly on Facebook, the option is found under the 'Login Approvals' section of the Security Settings page.
Instagram, Facebook, Twitter and many other social media sites allow users to add apps to their profiles for extra features. These may be related to games, photo sharing and editing or a number of other uses. These apps often create a security flaw that allows criminals to hack your account, however. While having no apps is the safest, that may not be realistic. If you'd rather not sacrifice apps entirely, regularly audit your apps and remove those that you no longer use or that the developer is no longer updating.
Phishing scams have infiltrated social media through instant messages, or in the case of Twitter, malicious tweets and profiles. Clicking on a bad link often leads users into trouble, but the most popular web browsers have some protections in place for these scenarios. Users must keep their browsers up to date, however, in order to be protected. Even with these security features, it's a good idea to avoid any link you're not absolutely sure about.
On the devices you use the most, your social media accounts are likely available without the need to sign in. No one wants to enter their password every time they check Facebook or Twitter on their smartphone, but what happens if your phone is lost or stolen. Now, whoever finds your device can look through your profiles, send out messages and steal whatever personal information is available. To limit this possibility, make sure to put a secure lock on your device. Require a PIN, password or pattern to be put in whenever the screen turns off.
In addition to these suggestions, it's also a good idea to use a strong, unique password for each account and change it regularly, especially when there's news of a large site being hacked.
If you've been the victim of an attack through social media, email or another source, bring your infected device to Geek Rescue or call us at 918-369-4335.
May 28th, 2014