Common Computer Problems You Can Fix Yourself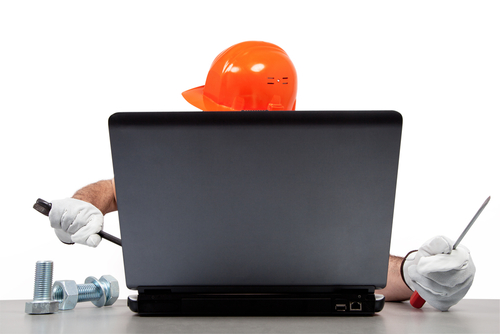 If you own a computer, or any device really, you're likely to encounter problems from time to time. But, as Ben Kim of CIO points out, some of the more common problems have easy fixes that you can handle yourself.
Regardless of the problem and before you try anything else, restart your computer. There's a reason this is cliched advice. For many issues, a restart will put everything right.
Your system will slow down when your hard drive gets too full. If you've noticed a sluggish performance, try clearing some space. Windows users will also want to use Microsoft's System Configuration tool to trim down the number of applications that open automatically on start-up. To access it, press Windows-R, type "msconfig" and hit Enter. 
If your downloads are taking longer than they should, test your connection speed. You can do this on a number of websites. Resetting your modem and router is also a good idea before contacting your Internet Service Provider. 
If you're seeing a high number of pop-ups ads, you'll want to make sure you have a pop-up blocker enabled in your browser. If they appear when you aren't even surfing the internet, you've got adware. This usually stems from you installing a program that had adware hidden in it. To remove it, try running any security software you may have, or installing new adware-specific programs.
If you're sitting in range of your wireless router, but you still get a weak signal or constant disconnects, there are a couple of fixes. First, try resetting the modem and router. Then, let Windows troubleshoot the problem for you by right-clicking on the Wi-Fi icon in the taskbar and selecting 'Diagnose Problem" or "Troubleshoot Problems".
 We've all had our share of printer-related headaches. Check to make sure there's enough ink, toner and paper and the notification light isn't blinking. Turn the printer off, then back on. You can even completely unplug the power supply and wait a few seconds before plugging it back in. If you still can't print, check to see if the "Use Printer Offline" option is enabled. Windows will switch this automatically in some circumstances so make sure to uncheck it. 
If these fixes don't work or you have a more serious issue, call Geek Rescue at 918-369-4335. Our team of techs fix any problem your device may have. Give us a call, or bring your device to one of our convenient locations.
September 4th, 2013