June 3rd, 2019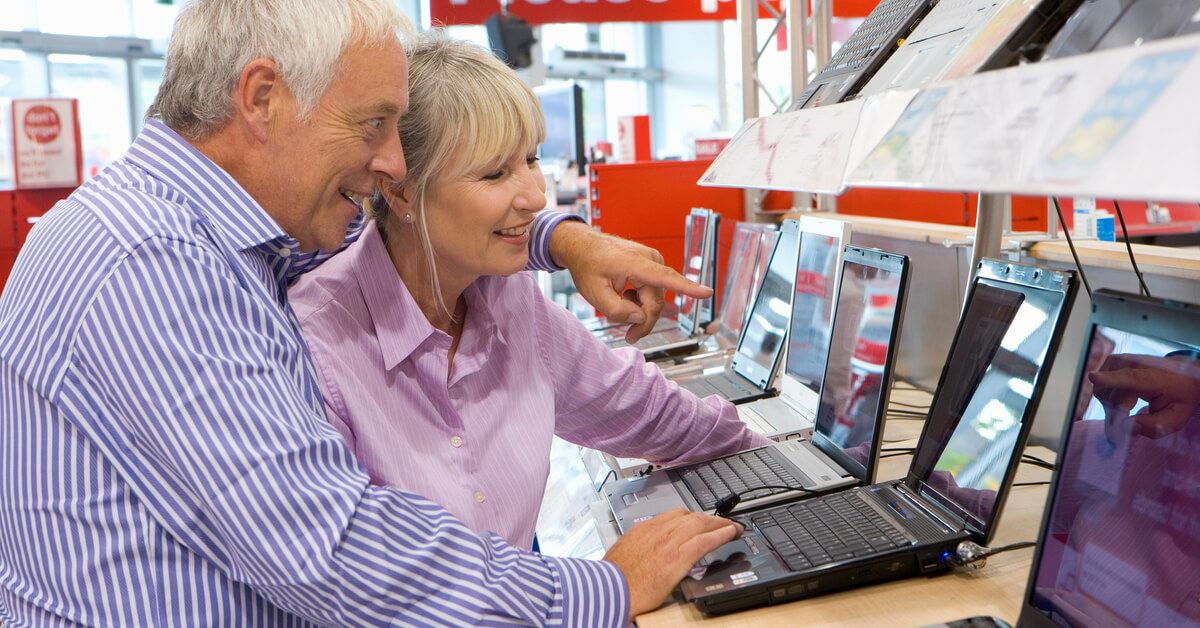 Though a desktop computer is great for use in an office or at home, the "growing" portability of laptop computers has made them quite popular in the last decade. In this piece, we're going to look at what to consider when shopping for a new (or new-to-you) laptop computer.
Ask yourself, "What am I going to use this laptop for?"
Picking out the right laptop for you can be daunting. There are a wide variety of options, bells, and whistles now available for most price ranges. A quick way to cut to the chase is to write down everything you plan on using a laptop for. Will this be a true workhorse? Will it just be for answering emails in your breakfast nook? Jot down what kind of use your laptop will receive. This will help you narrow your options.
PC or Mac?
Though you may already have a preference towards Mac or PC computers, purchasing a new laptop may give you an opportunity to reconsider your options. Those who enjoy engaging in creative endeavors such as photography, videography, music production and design tend to prefer Macs. Those who are looking for a robust, customizable experience tend to like the functionality of PCs. If Macs and PCs were the two sides of the brain, a Mac is more right-brained (creative, fluid, design-oriented) while a PC is more left-brained (logical, pragmatic, orderly). Still, it pays to research them both to see which is the best fit for you.
Hard Drive Capacity
Are you a digital minimalist or a borderline digital hoarder? We don't judge either way, but this will impact how much storage you should look for in a laptop hard drive. A larger hard drive will allow you to store all of your images, audio, video, and document files with ease. A smaller hard drive will cost considerably less. You should still keep in mind, however, that cloud-backup or backing up crucial data to external hard drives is strongly encouraged should something happen to your laptop.
Laptop Memory
Are you someone who tends to be centrally focused on the task at hand? Do you, instead, end up with multiple programs running simultaneously? If you'd like to maximize the number of programs you can run at the same time without the computer slowing down or heating up, you will want ample memory. Your memory is measured by the amount of RAM (Random Access Memory) your laptop contains. One gigabyte of RAM is typically the lowest amount of RAM you can get away with. Four gigabytes is becoming much more standard. If you plan on engaging in more "labor" intensive activities such as gaming or video production, increased RAM should be a higher priority. Even if you can't afford your preferred amount of RAM, make sure that the laptop you're looking to buy can be later upgraded to your RAM specifications at a later date.
Laptop Screensize
One of the advantages of laptops is your ability to use a computer on the go. One of the downsides can be viewing larger documents or video files on a small screen. If you have trouble reading smaller text sizes or you need to edit visually-rich items on the go, look for a laptop with a screen size that will be comfortable for you. Keep in mind that most text documents can be expanded to allow for easier reading. Still, editing videos, photos, or graphics may be uncomfortable with a smaller screen. If you won't be using a laptop for these visually-demanding activities, a smaller screen means greater portability.
Keyboard Arrangement & Illumination
Your keyboard is one of your greatest points of interaction with your laptop. For this reason, it is essential to find a laptop that is comfortable and functional. If number-input is a large part of your work, consider a laptop keyboard with a 10-key number entry pad. Also, if you may end up working in darker environments, a back-lit keyboard can be helpful in being able to see the keys.
Camera Options
Most laptops these days come equipped with web-cameras built into the top of the screen. If you will be using your laptops for web conferencing or recording any kind of video, you'll want to consider the quality of the camera on the laptop. If you rarely ever have a need to use Skype or any other web conferencing program, a higher quality webcam may not be necessary.
New, Refurbished, Downright Used
Let's face it, laptops are expensive. You can pay anywhere from a couple of hundred bucks to several thousand dollars for a laptop. Because of this steep price, it's worth considering whether having a brand new laptop is a priority. If it isn't, you can save yourself hundreds of dollars on a quality refurbished or simply used laptop. If you're considering a used laptop, make sure that the model is one that is upgradable to your liking. Some older laptops are only upgradable to a certain degree. Some Macs, for example, can only run up to a certain version of Mac OS. Newer used Macs may be fully capable of running the latest versions of your favorite programs.
Laptop Service
When purchasing a used laptop, it pays to have computer repair professional look it over for any lingering software issues, malware, and to upgrade the operating system to its latest version. The computer repair experts at Geeks To The Rescue are happy to get your new-to-you laptop running at its best and handle any issues into the foreseeable future. If you have any questions, feel free to reach out to them today.