New Features Included in iOS 9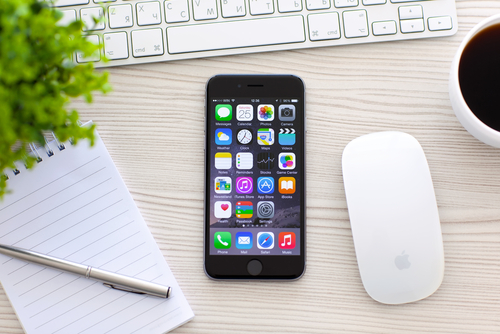 Apple's latest version of iOS became available earlier this week. If you're still wondering whether or not it's worth it to download iOS 9 for your Apple device, browse through this list of features compiled by Gizmodo. Here you can see a non-exhaustive list of what you can do with iOS 9 that was impossible with iOS 8.
Now it's easier than ever to use two apps at once. The Slide Over feature is designed for iPad users and brings up a second app as a sidebar. Just swipe your finger from the right edge of the screen in. For iPad Air 2 and iPad Pro users, Split View is available by tapping and dragging the app currently using Slide Over.
Android users have had the advantage of an always available Back button to return them to the previous screen or website. Now, Apple has introduced an easier way for their users to do the same thing. With iOS 9, a Back button is available in the top left corner of the screen at almost all times. Now, instead of double tapping the Home button, you can just hit Back to go between Apps.
Write on email attachments
When you open an email attachment, you can now draw or write on it using the Markup feature. When you open an attachment, look for the Markup button. If it's not there, try pressing and holding on the attachment. Using this tool allows you to draw with your finger to highlight, edit or make notes.
In past versions of iOS, you could pinch and zoom images, but not video. Now, pinch and zoom almost anything. That's not the only video upgrade either. Open Settings>>Photos & Camera>>Camera for alternative ways to choose video and slow-motion recording modes.
Safari now supports mobile ad blockers, or Content Blockers as they're referred to in Settings. These work similarly to ad-blockers that have been built into desktop browsers for years. This makes an even bigger impact on your phone where resources are constantly at a premium. The only catch is that Apple doesn't supply a Content Blocker to users. You'll have to go find and install one yourself.
If you're running low on battery, but you're no where near a charger, this iOS 9 feature will be a lifesaver. Low Power Mode can be activated and add up to an hour to your battery life. By turning off some background processes, you'll get to use your phone for longer and generally won't notice much of a difference in performance. You can tell when Low Power Mode is on because your battery icon in the top right corner will turn yellow and you'll see a percentage of the battery that's left.
To be fair, you could read the news just fine in iOS 8. However, iOS 9 is bundled with a brand new News app that offers some additional features to make reading the news easier. Content included is curated from carefully chosen partner publishers and articles are specifically formatted for your iOS device.
There are many additional features and capabilities you'll get when you upgrade to iOS 9 too. If you experience any difficulties, bring your device to us at 61st and Memorial and we'd be happy to help. We'll also keep your older devices running in case an upgrade isn't in your near future.
September 18th, 2015