Three Ways To Improve Your Wireless Network For Free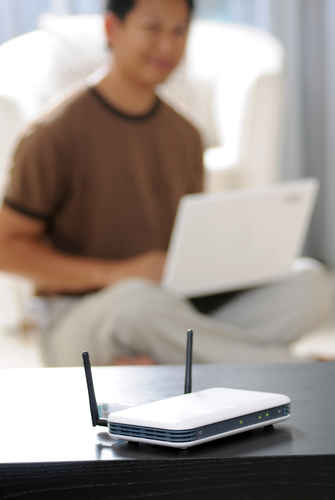 Wireless networks are everywhere and are responsible for keeping our most used devices, like PCs, smartphones and tablets, connected to the internet. They're far from perfect, however. A WiFi network is generally slower and less stable than hardwired connections to your modem. But, as noted in a video recently posted by Techquickie to YouTube, there are a few ways to improve your wireless network. Some of these tips require the purchase of additional hardware, but here are the absolutely free ways to improve your network.
Find the right spot for your router
Surprisingly, making your network reach the entirety of your home or office could be as easy as moving your router. There are a number of factors that contribute to limitations to the size of your router's range. First, understand that the coverage area is sphere-shaped. Placing your router close the center of your home will give you a better chance of covering all of it. Putting a router on the floor, or next to thick walls and thick objects, particularly those made of stone, metal or concrete, greatly reduces the coverage area so try to avoid those while finding an ideal spot.
Software and firmware updates are vital to patch security vulnerabilities, but can also be helpful in improving your router's coverage area. To check for the latest updates, just go to the manufacturer's website. For example, the Linksys website has a 'Support' section with updates for all of their products.
Regardless of your router's manufacturer, you should be able to switch between channels. If you're using a 2.4 GHz band router, you'll want to use channel 1, 6 or 11 because these are the only usable, non-overlapping channels. Deciding between these three depends on the other routers in use in the area. For example, if you have neighbors on each side and one uses channel 1 and the other uses channel 11, you'll want to use channel 6. Unfortunately, it doesn't always work out so cleanly. In addition to other networks, things like baby monitors and cordless phones contribute to interference. You can either use trial and error to find the best network for your area, or look for available tools and mobile apps that show you the other networks in use.
If these tips don't work, you'll probably need to add or upgrade hardware in order to improve your network. A new 5 GHz router, if your devices are compatible, will greatly improve your connection speeds. Other options include adding a new antenna or repeater.
If you're having trouble with your network and need to fix your router, modem or other hardware, call Geek Rescue at 918-369-4335.
April 24th, 2014