Secure Your iPhone In Three Steps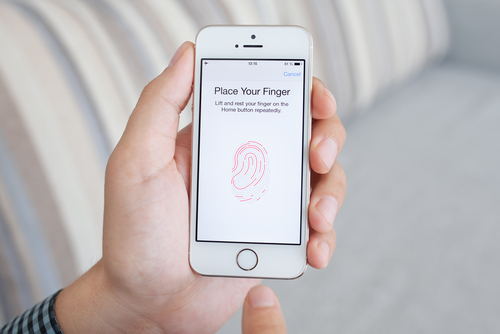 Whether you just bought a new iPhone 6 or 6+, or you are sticking with your older model, it's important to take some time to properly secure your smartphone. Apple includes some effective features for protecting your device that don't take long to implement. At the Symantec blog, Satnam Narang put together the three steps that all iPhone owners need to take to secure their phone.
The fingerprint scanner isn't a new feature on the iPhone 6, it actually debuted on the 5S. It is, however, arguably the best way to keep other people from being able to use your device. If you didn't enable Touch ID on the initial setup of your phone, you can do so through the settings menu. Not only will you now be required to scan your fingerprint to unlock your smartphone, but you'll also be able to make purchases from iTunes, the App Store and Apple Pay. Even if your iPhone doesn't have Touch ID, you can still take this opportunity to set a passcode on your device. Reportedly, about a third of smartphone users have no protection whatsoever set when unlocking their phones, which means if their phone is lost or stolen, who ever has it also has access to everything on it.
Your Apple ID password is required for many functions. You use it to make purchases, or enable iCloud features. If your Apple ID account is compromised, it could be very costly to you. So, make sure your password is long and strong. Apple requires at least 8 characters, at least one uppercase letter and one lowercase letter and at least one number. That's a great start but you can make it even stronger by making it longer and including a symbol like an exclamation point or question mark. Be sure the password you use also isn't the same as one you've used for other online accounts. When you re-use passwords, you introduce the possibility that one site can be hacked and multiple accounts of yours can be compromised.
Even with a strong, unique password, there are risks that your account could be hacked into. That's why it's also important to implement two-step verification, which adds a layer of protection by having your verify your device with a unique code or PIN. To enable it, log in to your Apple ID account and open the 'Password and Security" options. You'll be given a PIN to enter that verifies that you're the owner of the device and anyone trying to log-in to your account with a different device will need that PIN. You'll also be given a Recovery Key in case you lose access to your account yourself.
These three steps greatly reduce the risk that anyone else will be able to use your iPhone or steal the data saved to it.
If you're having other problems with your iPhone or other devices, bring them to Geek Rescue or give us a call at 918-369-4335.
For your business solutions needs, visit our parent company JD Young.
September 25th, 2014