Four Ways Your iPhone Is Vulnerable To Attack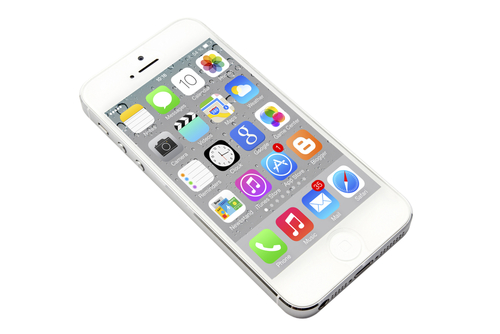 In Cisco's Annual Security Report, they claim that 99-percent of mobile malware targeted Android in 2013. Whether or not that's completely accurate, it's safe to say that more threats exist for Android users than their iOS counterparts. That doesn't mean, however, that security shouldn't be a concern for iPhone users. As Tom Brewster of The Guardian reports, there were 387 documented security flaws in iOS in 2012 compared to only 13 for Android. When iOS debuted, another 70 flaws needed to be patched. The existence of flaws doesn't mean attacks on them are inevitable, but it does illustrate how vulnerable iOS users are. Here are a few ways attackers could attack Apple devices.
Even if the base of iOS itself isn't vulnerable to attacks, the apps that users add often are. One prominent flaw is the allowance of developers to switch the internet address that apps use to acquire data. Hackers are able to exploit this flaw and associate an otherwise legitimate app with their own malicious site. This allows the attackers to execute a variety of malicious actions on a user's device.
Legitimate apps often contains security vulnerabilities, but there's only been one documented case of a malicious app being allowed into the official App Store. That likely won't be the case for long, however. Researchers have already demonstrated ways for a harmful app to be approved by Apple and earn a spot in the app store. One demonstrated app works legitimately when tested by Apple, but is able to rearrange its code when it's downloaded by users to steal data and remotely control certain functions of the the device.
Insecure WiFi opens up a number of possible attacks, regardless of what device you're using to access it. Not only does data being sent to and from your device become vulnerable, but data stored insecurely on your device could also be vulnerable to an attack. While these dangers aren't limited to iOS users, the perceived security of Apple devices often leads to iPhone users being more cavalier in the use of their device, which can lead to valuable data being stolen with little effort.
This is another threat that isn't limited to iOS, but certainly is a threat worth understanding. The use of fake, or stolen, security certificates is a growing trend in cyber attacks and allows for malicious programs to be accepted and executed. For example, an email that appears to be from a legitimate source asks users to download an application, update or even just a document. Without a trusted certificate, users would be warned about the download. With a false certificate, or one stolen from a legitimate source, an application is accepted as trusted by the operating system and malware is allowed to infect your device.
Protecting against these vulnerabilities often requires users to be more careful about how they use their devices. Understanding that your iPhone isn't completely immune from common threats is important.
If you find that one of your devices has been infected by malware, call Geek Rescue at 918-369-4335.
February 13th, 2014