How To Fix or Overcome A Slow Internet Connection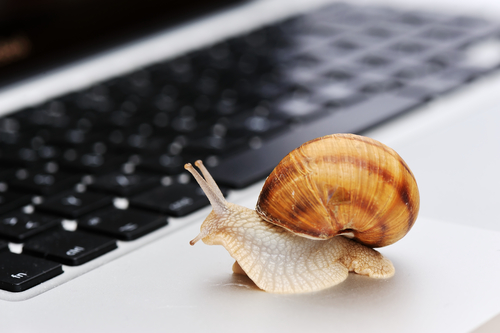 We've become so spoiled by regularly fast internet speeds that any load time we encounter is almost unbearable. Occasionally, even your fast, usually reliable internet connection becomes a slow frustration. Lifehacker has suggestions on what to check if you find yourself not-so-patiently waiting for websites to load.
If it's not a sudden change, but rather a continuous problem that your internet is maddeningly slow, you may be getting what you pay for. Check with your provider for how fast the internet on your plan is, then use a site like speedtest.net to see if you're getting the speeds you were promised.
If your connection is slower than it should be, try the tried and true method of turning off hardware then restarting. You can reset your modem, router and computer to try to fix the problem. You may discover that your wireless signal is too weak if you're on WiFi. It could be as easy as moving your router to a different spot in the house, but there are a number of possible fixes to boost your signal.
Your internet speed can be significantly slowed down by programs or plug-ins that use a large amount of bandwidth. For example, if you're using a download manager to download multiple large files, your speed in your browser is going to suffer. There are also tools that block elements on web pages that can use up your bandwidth, but that won't speed up your connection, only help you get the most out of it.
It's possible that the DNS server, which your computer uses to look-up websites, is having problems. There are ways to find the fastest DNS available, but if your DNS isn't actually encountering issues, you won't see much improvement.
In some cases, a slow internet is just the reality you have to deal with. If there are no easy fixes available, you can choose to load versions of websites with fewer design elements so they'll load faster.
There are plenty of ways to try to maximize your internet speed, but sometimes it's just time to find a new provider. Be sure to do your homework before making the switch so you know you're getting the best option for you in your area.
To learn about all of your options in fixing a slow internet connection, consult the experts at Geek Rescue. Whether there's a problem with your computer, router, modem or another source, Geek Rescue finds it and fixes it quickly. Come by or call us at 918-369-4335.
July 31st, 2013