Four New OS X Yosemite Features That Integrate With iOS 8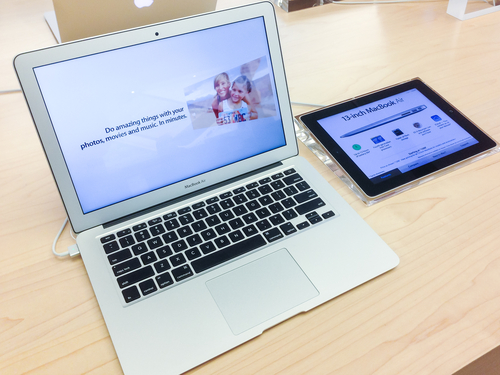 The public beta version of Apple's latest redesign of their OS X operating system is now available. OS X Yosemite includes a number of new features and a new look. Some of the best features aren't available in this beta version, however. As Mario Aguilar reports for Gizmodo, many of the new operating system's features will integrate with Apple's new mobile operating system, iOS 8, which is not yet available. Here are some of those features to look forward to.
Have you ever been looking at something on your smartphone, then wanted to look at the same thing on your desktop? This new feature of OS X Yosemite lets you do that seamlessly. It also works the other way to grab something on your phone that you were viewing on your desktop. So, say you pulled up a document on your Mac, then left to run an errand. You could grab that same document, or other task, on your phone.
With this feature, you can share your iPhone's internet connection with your Mac. This likely won't be beneficial most of the time, but if your home internet goes down at a critical time, it's nice to know your phone can be used temporarily to get your desktop back up and running.
Apple's iMessage has already been available to Mac users, but now that capability has been expanded so you can take phone calls and text messages on your Mac. You'll never have to wonder if you've missed a call while your phone is charging in another room.
The iCloud storage system has been the focus of much speculation, but Apple is finally turning it into what it should have been all along. Now, it will operate similar to Dropbox. Simply move files to iCloud and then you're able to access them across all of your Apple devices.
The features listed are only the additional capabilities OS X Yosemite will feature once iOS 8 hits the market. The new Mac operating system also has a number of stand alone features that users should also find useful.
If you're having problems with any of your Apple devices, come by Geek Rescue or call us at 918-369-4335.
For your business solution needs, visit our parent company, JD Young.
July 23rd, 2014