Daily Cleaning Tips For Your Computer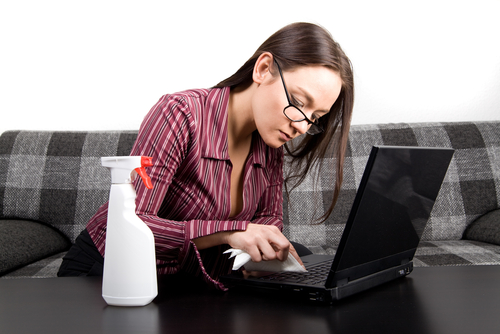 When you first unboxed your computer, you probably took extra precautions like being gentle with each piece, washing your hands and keeping food and drinks far away. How long did that last? Most of us abandon the careful behavior and start using our computers with reckless abandon within a few days. Doing so leaves crumbs and debris in keyboards and smudges across our screen. Dirty computers can even perform worse than clean ones. At LifeHacker, Alan Henry published some tips for how to quickly clean your computer every day.
Turn keyboard upside down and shake over trash. 
This isn't as effective as using a can of compressed air, removing keys and deep cleaning your keyboard. But, these are tips for daily cleaning. By removing any loose particles and crumbs every day, your keyboard stays newer for longer and won't need to be deep cleaned as often.
Wipe screen with dual-sided microfiber cloth. 
First, wipe down your screen with the terry cloth side. No additional cleaner or liquid is necessary. When you're finished, turn the cloth over to the microfiber side and wipe again. This will remove smudges and dust that has collected on your screen. This doesn't help performance, but does allow you to see the best display your monitor allows.
Wipe keyboard and mouse or trackpad 
There are specific cleaning wipes you can buy to remove some dust that doesn't fall out after step one and remove grime from your trackpad or mouse. Another option is to mix your own cleaning liquid. A mixture of half water and half isopropyl alcohol works well, but don't use it on your screen.
That's all there is to it. This will take about one-minute per day and keeps your computer clean without you having to be extra careful. Periodically, you'll want to perform a deeper clean, which should include cleaning the interior and exterior of your tower. This keeps it running quietly and cooling properly.
If your computer is in need of repairs, or just a deep cleaning, bring it to Geek Rescue or call us at 918-369-4335.
January 21st, 2014