iPhone 5S Boasts New Features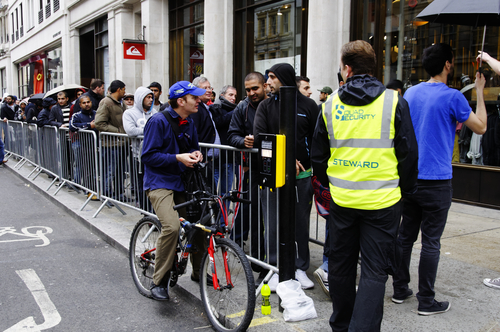 Apple unveiled the newest entries in the iPhone line recently. The iPhone 5S and a budget model, the 5C. While the 5C features little advantage over last years iPhone 5 other than colored plastic cases, the 5S offers a number of new features.
David Pogue of the New York Times delved into the new iPhone to uncover some of the most interesting new innovations.
If you're a current iPhone user, how would you rate how fast your phone is able to perform tasks? What if it were twice as fast? The new 64-bit processor in the iPhone 5S promises to double the speed of the previous processor. 
There's also a coprocessor. This assistant handles data for location and motion, which generally takes less processing power. Since the coprocessor operates at only one-sixth of the battery cost of the main processor, this grants you more battery life without sacrificing performance.
Apple has spent relatively little time improving the iPhone's camera through each iteration. But, for the iPhone 5S they made a real effort. With a better lens and bigger pixels, the camera is better than ever in low-light situations. Color should be improved, as well. The flash is catching everyone's eye initially, though. That's because it's actually two flashes, one white and one amber. One flash fires to gauge the lighting and color of the scene, then the two combine to fit the needs of the situation. There are reportedly 1-thousand lighting combinations the flashes are capable of. 
There's also a burst mode that allows you to shoot ten frames per second. You can use this to rapidly fire pictures, or to shoot video in slow motion.
The new fingerprint scanner
This one has been the topic of much debate even before the iPhone 5S was officially unveiled. The fingerprint reader is built into the Home button, so securely unlocking your phone just requires a touch of your finger. You can even add fingerprints of others who might be using your phone too. And, Apple lets you use your fingerprint instead of a password when purchasing from Apple's online store. 
The concern has been how Apple stores your fingerprints once they capture them. According to Apple, the fingerprints are encrypted and stored on your phone's chip. They are not sent or stored online.
The iPhone 5S and 5C will both be available to the public on September 20th. Whether you plan to buy the newest iPhone or not, Geek Rescue has you covered. We'll fix the newest gadgets if you have an unfortunate accident. Or, we'll fix your older device to make it seem like new. Call us at 918-369-4335 or come by Geek Rescue with any of your broken gadgets.
September 16th, 2013